XY.010.R (Rotating prism mount)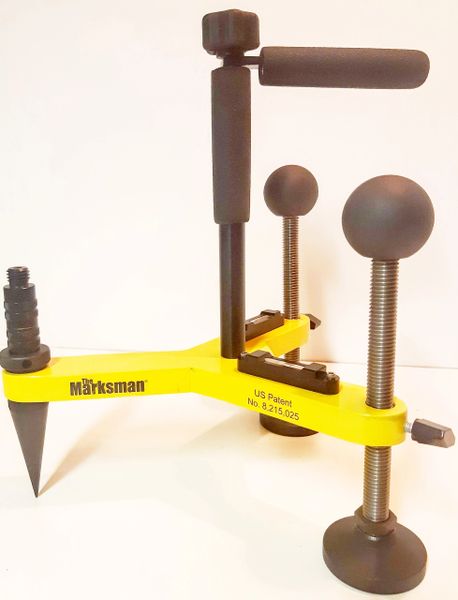 XY.010.R (Rotating prism mount)
The XY-010 is designed for the Total Station Surveyor looking for an accurate, effective and hands-free approach to targeting. 

The comfortable handle,swivel feet and comfort grips - make this unit easy to carry, set and use.
Level and Shoot control points, property bars, nails, spikes, cut-crosses, monuments, anchor bolts, etc.  -  hands-free.
Features:
 adjustable/removable 1"dia. comfort grip handle.
5/8-11 thread for rod point.
5/8-11 Rotating Prism Mount, Knurled Aluminum - allows prism to be rotated without changing the height of the prism.
(2) Tubular Levels - Sensitivity 9.5'/0.050" set at 90deg.
Powder-Coated 3/4" Aluminum 6160 Tooling Plate, Water Jet Cut
2" Rubber Comfort Grips
Stainless Steel 5/8-11 x 8" legs.
5/8 Swivel Level Mount Feet.
Thread Tensioning
Equipped with a 5/8-11 thread at the rod point, this unit can accept all prism types, GPS receivers and Scanning Targets.
**PRISM AND ROD EXTENSION NOT INCLUDED**